No sleep till Luton!
'No sleep till Luton's is a review of Kraftwerk's appearance at Tribal Gathering 1997, by IC
Photos by Emilio Giaretta
From Aktivität 9 - August 1997
---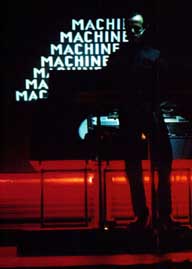 And so 'Tribal Gathering' came to pass... and not a moment too soon! In the months that separated the announcement of Kraftwerk's appearance at the event and their eventual performance, there had been an unparalleled level of media interest in precisely just what those reclusive musik arbeiteren from Duesseldorf were to be doing in a tent in a field in Luton on the night of May 24 1997.
Not to mention the fans themselves - to put it mildly, the Aktivitaet postbag has swelled to massive proportions in the past few months, while the telephone has also been hot to the touch most days. Make no mistake, the anticipation of this event easily outstrips anything since the pre-'Mix' days. More so than ever before, the media speculation on Kraftwerk's involvement helped to hype the event to a greater extent than would otherwise have been warranted. Numerous articles recounting the bands history and pondering whether or not they would unveil new material at TG were spawned in the months leading to the show, while the NME, immediately prior to the event, announced that the band would premier three new songs. All of which added fuel to the fire...
For the more cynical-minded however, the clues were portentous enough... There were no new releases from EMI planned to coincide with the event; neither were there any new interviews with the band in the press - not even one! Surely if Kraftwerk were preparing to unveil new material we could expect them to want to talk about it? So, it was with a sense of impending disappointment that I approached Luton Hoo estate on that sunny May afternoon...
> Continue