No sleep till Luton! - continued - page 2 of 2
---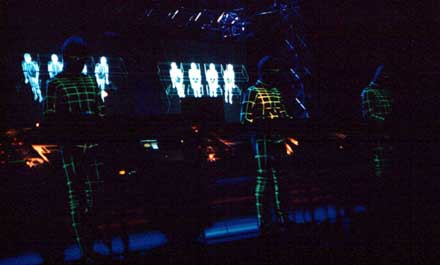 Kraftwerk in their new stage outfits, performing 'Music Non Stop'
(Photo by Emilio Giaretta)
First surprise of the afternoon was at the gate to the event; I wasn't searched! I had expected a full-scale emptying of pockets and frisking of trouser-leg job, but fortunately this was deemed unnecessary. Next surprise was at the free and easy access to the 'Trans-Europe' tent, which in a number of hours would be the venue of Kraftwerk's performance. Kraftwerk being the meticulously reclusive types they are, I'd anticipated that there would be no access to this tent until far nearer the time of the bands performance. But no, one could come and go in the tent as one pleased. A fair number of obvious Kraftwerk fans were already annexing the stage-front positions in anticipation, scrutinised by the small number of security-conscious men in the front of the stage on sentry duty. With a certain inevitability I noted that the trademark Kraftwerk black drapes preserved the Kling Klang stage set from prying eyes and, no doubt, the hired hands would ensure that none shall pass, should you wish to feast upon the mysteries housed within the racks of Kling Klang 1997 style.
Back outside I found my way to the merchandise stall. The Kraftwerk goods consisted of three designs of cycling shirt and one standard T-shirt. The most attractive items were the blue 'Autobahn' and yellow 'Radioactivity' cycling shirts, which I recognised from the 1993 Kraftwerk concerts in Europe. The new cycling shirt was somewhat more anonymous - grey with the 'www.kraftwerk.com' legend and a mouse pointer logo in lime green - hmm, hardly the most exciting of garments. Matched perhaps by the black T-shirt with white 'dancing robot' logo which made up the quartet of chest-enhancing goodies up for grabs here. We can but speculate that Kraftwerk's days have not been filled with endless toil towards sophisticated merchandise designs... Leaving the merchandise stand numerous tenners lighter of pocket, I made my way to some of the other tents to sample the aural delights on offer, eventually running into some acquaintances from previous Kraftwerk gigs and conventions. With the same inevitability of night following day, the question on everyones lips was whether or not Kraftwerk would play anything new...
The general consensus was that the Kraftwerk tent was going to become mighty busy before the men themselves made their way to the stage, so erring upon the side of caution we decided to make our way to the 'Trans-Europe' tent for about 8 o'clock, two hours in anticipation of Kraftwerk's advertised entrance time. A wise move in retrospect, since the tent began to fill long before kick-off, initially to the relentless beat of the Two Lone Swordsmen's sound system. This came to an end 9ish, followed by silence... not even the customary Kraftwerk 'bleep blops' (heard at all of their shows in the 90s) were aired tonight. The sides of the tent itself were opened up so that revellers unable to find footing within the tent could share in the electronic music sounds of Kling Klang. While there were no warm-up 'bleep blops' the customary Kraftwerk traditions were retained for the intro however, come 10.15...
'Meine dammen uend Herren... Ladies and Gentlemen... Heute Abend... Aus Deutschland... Die Mensch Maschine... Kraftwerk'
Kraftwerk were shortly upon us.
The unmistakable count of 'Numbers' had commenced, it's time-keeping rhythm arriving on cue with the inevitable drape-unfurling, to reveal Kling Klang 1997 style... Which was not remarkably different from past years. The easiest difference to spot was that the equipment was placed 'face-on' to the crowd, as opposed to the v-shaped setting more normally used. In fact, this was the same as had happened in the bands 1992 UK-shows, so nothing radically new there. As for the actual equipment within the racks of Kling Klang, well... not quite the wholesale revamp that I had been expecting. For sure, there are some new items nestled in there, with a stream of red lights blinking sweetly in parallel sequences behind Ralf Huetter a clue to the nature of the Doepfer MAQ sequencer, I presume and the Doepfer 'Schaltwerk' also visible between Fritz and Florian's positions. All in all, it's safe to say that, cosmetically, Kling Klang mk. 1997 is barely altered from before, the four video screens behind each member also making their return. And any self-respecting Kraftwerk fan could work out from the parallel metallic tubes behind those self-same video screens, that the robots were also back in town, biding their time for their own robot dance...
Big difference however was the fact that there were two giant video screens on either side of the stage, these mirrored the screens behind Kraftwerk in their choice of visuals and must surely have been a welcome relief for those unfortunates miles from the stage front.
If the event were indeed filmed then it must have been low-key, there were no steadi-cam cameramen running about here there and everywhere at the peripheries of the stage. The event was recorded however, since portions of it were broadcast on Radio 1 later in the night. More on that later...
And whom might Kraftwerk 1997 consist of, I hear you ask? Is it true that Wolfgang Fluer has rejoined?! No... same line up as 1993; from left to right, Ralf Huetter, Henning Schmitz, Fritz Hilpert, Florian Schneider, clad in hi-tech black jackets this year though, instead of the shirts/roll-neck tops of previous tours. Florian has quite noticeably elected to shave his hair these days and be done with it all.
One could detect from the opening 'Numbers' what to expect next; not surprisingly, 'Computer World', followed by 'Home Computer'. The former has had a few nips and tucks and its melody line is more in tune with the original recorded version I note, as was the case in 1993s shows.
Similarly, if you're only familiar with the 1991 UK tour version of 'Home Computer' then tonights version would have sounded different, since its rhythm has been beefed-up considerably, but really it's once again as per the 1993 model by and large. And this turned out to be pretty true for most of the performance - where Kraftwerk played tracks are per their last outing in 1993, the versions differed in only minor ways. The visuals however are another matter, though for now all you need to know is that these first three tracks ('Number', Computer World' and 'Home Computer' were pretty much as before.
Had this been a straight repeat of 1993s shows then next in line should have been 'Computer Love', but this song was not played at all tonight. Instead, the mighty 'Man Machine' was brought to life, its UK debut in fact, since only the 1993 shows have previously been witness to its tones. A big cheer greeted this one. The simplistic red, black and white geometry of its accompanying graphics were entrancing enough, the actual version is somewhat more elongated than the LP version - it has a heavy duty rhythm for sure these days, but longer, trance-like instrumental intervals. The graphics spell out the minimal lyric in great huge constructivist-inspired block lettering, no messing about there. Big cheer upon its finish, a favourite with the crowd.
Back to the schedule... 'Tour De France', it's extended, dreamy intro still present and correct, along with its black and white archive footage on the video backdrops. Always a highlight, absolutely no doubt about it being a crowd favourite, not much else I can add - business as usual, most definitely.
Und wir fahr'n auf der Autobahn next... I enjoyed this one greatly, a bit of tinkering has been done here and I really loved the 'electronic yodelling' interlude towards the rear end of this song, a definite adjustment in the vocoded voice there. Some changes in instrumentation too and as for the visuals - well! Someone at Kling Klang HQ has spent some time in daddies loft looking at the old VW Beetle sales brochures, or the like!! Some very sweetly nostalgic classic-era car artwork of the historically significant Beetle has been scanned in for use with the video displays, all idyllic, rolling green valleys and the like, while the more familiar black and white 1930s footage is still in there too. There were a few little mistakes to the performance though, it must be noted! And a nice little touch was the very end... the familiar blue and white Autobahn/motorway road sign but with a red diagonal stripe added through it - end of Autobahn!!
'Autobahn', while benefiting from some streamlining and new spec for the visuals was pretty much intact from previously. What followed next was a genuine surprise - the sinister vocoded tones of 'Sellafield 2', the short track that was produced back in 1993 as part of Greenpeace's 'REACT!' ant-Sellafield campaign. Whether it be Florian or Ralf responsible, someone did a mighty good job of coaxing the most unsettling of vocoded tones for this one, while the bald facts of the text were spelled out for all to see on the videos. This segued nicely with 'Radioactivity' of course, which is definitely a highpoint of the set in terms of energy levels and unsurprisingly this got the audience dancing. Like 'Computer World' and 'The Man Machine', the lyric is spelled out big and bold, absolutely no danger of any misinterpretation these days... STOP RADIOACTIVITY! - message received, loud and clear.
The first portion of the show came to a close with 'Trans-Europe Express'/'Abzug'/'Metal On Metal'... and some new archive film/graphics too... If you're familiar with the TEE train logo that is to be found on the original inner sleeve artwork for the self same LP, then this would be a treat - colour footage of the same style of locomotive as that. In another setting, this would no doubt be seen as being but a rather pedestrian film of a train, just for rail enthusiasts (me mention trainspotter?! never!). Linked with the music, somehow the whole package knits together nicely. Again, it is the classic Kraftwerk ploy of combining their futuristic music with sweetly nostalgic imagery. I enjoyed these new films and images greatly, but musically the track was little different from its last outing. And the technical hitches which forever, in their own little ways smear the polished surface that would otherwise be Kraftwerk live reappear once again as Ralf sings but no words are heard... obviously someone forgot to turn the volume control up for the first few lines!!
And with its last squeals of wheels on rails, 'TEE' comes to and end and the black drapes close, for what seems an interminable age... punctuated by some strange musical sounds for a few seconds... could it be something new?!
No, instead the drapes are unfurled to reveal the band members with their mini-instruments, time for the 'Pocket Calculator' antics once again. And Florian does not disappoint, hamming it up with the customary 'rock'n'roll' poses and similarly exaggerated gestures. Which, it must be noted, reveal as plain as day that there seems to be little connection between pressing those special little keys and what we actually hear musically...
Ralf, as sober as ever, also decided to include the Japanese lyric too in this particular rendition, so we could all have joined in with 'Dentaku' if we'd known the words off by heart... what do you mean you don't?!! (Only kidding...)
And then the farce begins... As ever, as the song comes to a close, the black drapes close... only, on this occasion, they don't!! A rather panic-stricken looking Ralf improvises somewhat desperately with his mini-keyboard to fill in while ever more furtive attempts to secure the concealment of Kling Klang... Cue a member of the Kraftwerk road staff to take the heroic step of scaling the Kling Klang gantry and moving out, high up over the stage to free whatever obstruction caused the drapes to jam. They still work! - and open to the sound of 'The Robots', the elongated bleepy intro the giveaway as ever... the familiar promo video/animated robot dance is displayed on all the video screens, though it has been altered, certainly its colour into more 'Man Machine' like red and black hues. And unsurprisingly, 'Robotronik' follows... the video screens descend to reveal the robotic manifestations behind and the robot ballet proper begins, with new lighting effects added. And naturally, the crowd love this, for those who have no experience of Kraftwerk live then this is not exactly your typical stage show is it?!
The drapes do their best to close again, but are halted in their task once more... Cue even less patient moves to secure their meeting... and more heroics up above the stage from Herr Kraftwerkroadie
And we all make a lot of noise of course... we want more after all. Some have drifted off of course, even after 'TEE', obviously unfamiliar with the teasing nature of Kraftwerk's live approach of hiding behind the drapes at regular intervals towards the rear end of the set. Even my familiarity with the Kraftwerk ritual could not prepare me for what was coming next however. The drapes opened to reveal the four members of the band clad in a rather futuristic black suit with yellow lines, illuminated with fluorescent light; incredible. Just like the 'Music Non Stop' wire-frame animated figures come to life. The finishing touch being the black glasses with yellow frames... almost Japanese cartoon sci-fi really! Even more astonishing, the fact that the music and sounds from their fingertips and Kling Klang was NEW!!! I repeat, new. A new song!
A NEW SONG!!! A NEW BLOODY SONG!!!
And what does this new song, the first new song that Kraftwerk have played live since Neolithic times sound like? Well... to be honest, fairly pedestrian! If I could think of a way to sum it up it would be a pretty fair approximation of the techniques of 'The Mix', a la the 'Pocket Calculator'/'Home Computer' style - a thumping four-from-the-floor beat anchoring the unashamed bass-heavy techno groove. Truth to tell, it struck me as being the kind of piece that Kraftwerk or, even worse, any self-respecting modern outfit would bash out in five minutes flat at a rehearsal, just to loosen up the fingers and sequencers if nothing else. Primarily instrumental, the vocoded tones merely mouthing unintelligible sounds, it is rumoured that this is the track which will appear of the upcoming Wim Wenders 'The End of Violence' movie soundtrack. Who can say for sure, all I know is that it was an incredible sight to see Kraftwerk clad in such a manner and performing this new song. No videos accompanied this performance on the backdrop.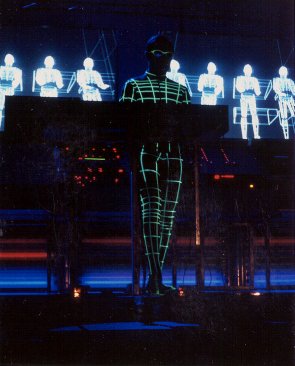 And the vibe continued into 'Music Non Stop' - the new outfits quite obviously inspired by the very same video which was shown on the backdrops for this song - really quite something to see it all come together. 'Music Non Stop' itself varies on each and every occasion, on no two nights is it ever quite the same. Tonight it was reasonably short, certainly in comparison to some of the monster-length renditions from 1991. Ralf was quite visibly playing parts of the track live, this being one of the few occasions these days when you can see for yourself what is really live and what is already pre-programmed. Kraftwerk tradition being what it is, Florian makes a swift exit stage left, to the customary loud cheer. This is echoed on each occasion for both Fritz Hilpert and Henning Schmitz's departures. Leaving Ralf, who obliges with his customary solo display; perhaps more than any other song, 'Music Non Stop' is his own tour de force.
Before long, Ralf too leaves the stage... the words repeating the Kraftwerk mantra into the night, sullied only by the recalcitrant drapes...
And the show is over.
What did I make of it? Immediately afterwards I couldn't help but dwell on how much of it was similar to the shows from 1991-1993. Once again, Kraftwerk have returned from their exile with their customary silence promising nothing, but the intervening years suggesting new works to be unveiled. Even though they did in fact reveal a brand new song, somehow the hollow feeling remained; it was hardly a new 'Tour De France', 'Home Computer' or 'Numbers' - a nod and a wink to current dancefloor practices perhaps, but not an item I would recall as unmistakably Kraftwerk if I were to hear it in an anonymous situation like a club dancefloor. The visuals too flattered to deceive - the sci-fi suits were cute, but again hardly cutting edge - remember 'Tron' anyone? Even further back, the movie 'Breaking Glass' and the song 'Eighth Day' by Hazel O'Connor? I was delighted and charmed by the sweet nostalgia of the new portions on view from 'Autobahn' and 'Trans-Europe Express', but they were merely nice new epaulettes and buttons on last years dress. Where be the new Spring and Summer collection?! Kraftwerk have merely been polishing and refining the existing designs. And they sparkle with ever greater lustre in the cases of 'Autobahn' and 'TEE'. Perhaps 'restoration-in-progress' rather than 'work-in-progress' best sums up the Kraftwerk live experience. 'The Mix' is alive and well.. perhaps next year we will indeed find a new release from Kraftwerk, 'The Mix 98'.
On the other hand, they came, they saw, they conquered. The press speculated beforehand that these rather aged gents would be shown up against the shiny people of current club culture, that Kraftwerk were something of a fossil in these times of frenetic drum'n'bass breakbeats and similarly glossy, sexy, slim-limbed shapes of the 90s. Well, they held their own - with an almost painful stoicism, the four Kraftwerkers manned their posts with nary a smile nor laugh between them, like some cool automatons descended from some unearthly place, surveying the earthlings gathered before them with a a curious air of detachment. I'm sure more than enough people went away with their curiosity aroused following Kraftwerk's performance.
Unlike 1991, 1992 and 1993, this was the only concert given by Kraftwerk thus far - there was no low-key warm-up date at a small venue beforehand. It appears that the band played a full dress rehearsal set behind closed doors on the Thursday night instead, witnessed by only a handful of people.
Kraftwerk continue in their own inscrutable manner. Are they the ageing mistress who now insists on dimming the lights before revealing themselves to their lover, only giving the merest glimpse of their unadorned selves lest the shape of the past, long since gone, now be dispelled? The security measures, as noted in numerous media articles reviewing 'Tribal Gathering' were there to ensure that no-one got to get too close to Kraftwerk and no-one could ripple the mystique that has accrued over the years. Kraftwerk gave no interviews perhaps more than ever before because there is little left to say that would do nothing but rent the carefully stitched illusion. By the same token we might note that the new song is an instrumental...
However, despite the doubting nature of some of the pre-TG articles in the music press, once again it was a hearty thumbs-up in the subsequent press reviews. Vene, vidi, vici. Again, it seems as if Kraftwerk have gotten away with doing just enough to retain the mystique while not revealing the true nature of what they have been occupying their time with in yonder Duesseldorf's Kling Klang studio. So, a new album perhaps? As mistresses go, we must all leave with a peck on the cheek, a glimpse of stocking and a vague promise of 'maybe next time'...
Author: IC, July 1997