'Vorsprung dürch Technik?!
In his article 'Vorsprung dürch Technik?!', Mark Stagg looks at some of the more recent musical equipment purchases made by Kraftwerk and reported in the music press
From Aktivität 6 - August 1994
---
If you want to know what Kraftwerk are up to these days, you're better off scanning the pages of the music technology press, rather than the conventional music papers and magazines.
Over the last eighteen months or so, several snippets of information have emerged regarding Kraftwerk's choice of equipment, proving that Ralf Hütter's description of Kling Klang as "our electronic garden, constantly regenerating", is just as apt as ever.
The first of these was with regard to the MAQ 16/3 Analog/MIDI sequencer, a new product by German company Doepfer. Briefly, this device harks back to the early days of sequencing, having perhaps more in common with classic drum-machines rather than the software-based sequencers popular at the moment. Rows of knobs are each stepped through in turn - forwards, backwards or both. Each of these knobs can be adjusted to output a certain type of MIDI message, note information for example, or perhaps changes to program (sound) or volume. This approach lends itself well to the creation of fast, unusual, hypnotic and even mechanical sounding musical sequences, rather different from that which a musician might come up with when playing a conventional keyboard.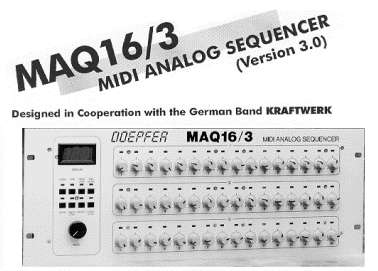 Florian Schneider was apparently quite involved with the development of the 16/3, being regularly sent updates to the operating system and giving his comments in return. The unit is now generally available at a price of £666, although both New Order and The Human League, who have also recently purchased the 16/3, will have to make do with the standard black finish; Florian's, of course, is grey - to match the Kling Klang livery!
Doepfer, it seems, have enjoyed a healthy working relationship with Kraftwerk over the last few years, having built the mini-keyboard that Ralf used during live performances of 'Pocket Calculator' and carrying out other work for the band, such as the MIDI-retrofit on their old EMS vocoder. And its another of the company's recent products, the MOGLI-MIDI Glove that has also found favour with our musical heroes.
The Nintendo Power Glove This unusual device (an abbreviation of MIDI Operated Glove Interface) is actually based on a games peripheral - the Nintendo Power Glove - which has been modified to generate MIDI information. Various hand movements can therefore control the music in different ways, triggering a certain sound, for example, or increasing/decreasing volume. The MOGLI was used by Florian Schneider during Kraftwerk's appearance at the ARS Electronica festival in Linz, Austria, July 1993, where he donned the glove for 'Pocket Calculator' and 'Music Non Stop'. The glove is now commercially available to all-and-sundry priced at a very reasonable £366.
Remember though that both these products do not actually make any sound of their own, merely offering ways of controlling other devices that do. One such device might be the QUASAR Synthesizer Module, the latest addition to the Kling Klang racks. This piece of kit, manufactured by another German company, Quasimidi, looks set to become a very popular sound source among electronic music-types, featuring as it does a large collection of vintage synthesizer and drum-machine sounds, together with real instrument samples, effects processing and the option of three different types of synthesis (subtractive, additive and FM), whereas most modules usually offer just one. Also included is another echo of the old-days of synthesizers; the arpeggiator. And there are even a handful of sounds named directly after Kraftwerk themselves, who promptly purchased four QUASAR's (it has been reported elsewhere), preserving, as ever, the Kling Klang symmetry. The unit is now available in this country (England) from a supplier called Music Connections, whose salesman described it as "Kraftwerk in a box" no less! The price is around £1000, depending on the depending on the various memory options available.
So what are Kraftwerk up to with this new gear? Obviously they must be doing something with their purchases, so I suppose its fairly encouraging in that respect. The QUASAR article in 'Sound On Sound' magazine mentioned that they were using the modules on their "next album and tour", though quite when these will see the light of day is another matter altogether, as we all know by now. And, scratching below the surface for a moment, I do think there are a couple of pertinent observations that can be made.
Throughout the seventies and early eighties, the Kling Klang arsenal would consist of all manner of weird and wonderful devices, many of them custom-made, some modified from existing equipment and others just plain and simply bloody expensive! By contrast, what these three new products have in common (besides being manufactured in Germany) is that they are all widely available and relatively cheap. Even the powerful Synclavier system, which Kraftwerk adopted during the second half of the eighties, seems to have been replaced by a clutch of industry-standard, and somewhat cheaper, AKAI samplers. And glancing around the live-performance Kling Klang set-up over the last three years reveals that many other, quite common 'off the peg' items, from such established names as Roland, Yamaha, Waldorf, AMS and TC Electronics. In short, mainstream equipment.
On the one hand of course, all of this completely vindicates Kraftwerk's original vision of electronic-music-as-modern-day-folk-music, with the means to make such music available to everyone.
On the other hand however, I think we can begin to see something of the bands current dilemma;
As long ago as 1981, Ralf commented in an interview we spend a month on the sound and five minutes on the chord changes". And indeed, the band have never seemed interested in releasing records when, say, they have a collection of new songs, like conventional artists do. The only time we get a new Kraftwerk record these days is when they feel they have a new technology to explore, such as the all-digital methods employed on 1991's 'The Mix'.
In 1994 then, when you or I can go out and buy ourselves a QUASAR module and create music not entirely dissimilar to Kraftwerk's, perhaps there is simply no reason for a new Kraftwerk album to exist. I'd love to be proved wrong of course...
Mark Stagg, September 1994
---
Postscript
One of Aktivität's German readers, Klaus Zäpke, adds that adverts for the Quasimidi QUASAR sound module mentions that "a well known synthesizer band from Düsseldorf" use the QUASAR because of its analogue sounds and that a small close-up photo from a "klinging Klang-studio" with two QUASAR's installed was also published. The second demo-CD to promote the QUASAR is also available which contains a track called 'Die Zensur' (Düsseldorf Mix) (English; 'The Censor') which is very much in the style of Kraftwerk (though it is definitely not by Kraftwerk).
More recently (1996), Florian Schneider has penned a review for a German music magazine 'Keys' about one of the Doepfer company's newest items, the A-100 vocoder module and even contributed a short demonstration of the units capabilities on the free CD that accompanied the magazine. Finally, Kraftwerk's live performances from 1997 and 1998 have witnessed a number of these items of musical kit nestled within the Kling Klang racks for all to see.
Other Aktivität Online articles about Kraftwerk's equipment;