'The 1994 Kraftwerk and Elektric Music Convention'
A personal review by B Cassidy
From Aktivität 6 - August 1994
---
After the apparent success of last years convention offering in Blackpool it seemed logical that it would become an annual event. Thus we have the 1994 convention. This year things were a little more organised with more being offered in the way of entertainment. I arrived at about 11.00am and was surprised to see that there were apparently fewer people present than last year. As the day progressed though more people did turn up though there still seemed to be fewer people present than the previous event.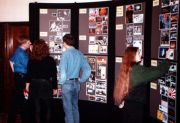 Entrance to the booked hotel disclosed more in the way of visuals. The picture display was particularly good, with colour and black and white images tracing Kraftwerk's musical history and also Elektric Music's. Great effort had been made in presenting these pictures and credit where credit is due to Ian and John. I for one hope that a book is produced in the future, perhaps put together through the Aktivität network, containing these images and more, in high quality colour and black and white.
The second feature that caught my attention was the display of badges. This I must say didn't really impress as they were all very similar, some certainly didn't look official! This didn't stop some folk taking pictures of them though.
Once everyone appeared to have arrived all were welcomed by our main host and organiser, Paul Wilkinson. After setting out the days timetable we were pretty much left to our own devices until the buffet was ready at midday. Before lunch though we were treated to a showing on a large projection screen of some recent videos and TV programmes concerning Kraftwerk and Elektric Music. Some of this was interesting, including the live 1993 footage, but some of it was plain boring and the sound quality was particularly bad. Us sat at the back could barely make out a word! Why the all-day video show wasn't shown on the big screen is a mystery to myself and some of the people I talked to. Most of the footage shown on the all-day video show was far superior to the big screen show, even if we had seen some of it before.
It was interesting this year that there seemed to be far less people selling items. Surely the best places to sell Kraftwerk goods is at a Kraftwerk convention? Next, before lunch, we have the 'Sounds Like Kraftwerk' slot. This was a good idea as it gave the opportunity to hear some rare Kraftwerk tracks. Yet again though, scrutiny must be made. The stereo used to play the music was very small and what with people talking over the music, little could be heard. Perhaps next time a cassette deck connected to a decent amp would suffice. Also, it should have been on for longer. Half an hour was nowhere near enough time to do justice to all the various remixes, live versions etc. that most of the convention-goers will never have heard before.
Once all had eaten it was time for what most probably saw as the highlight of the day, Elektro Kinetik. This band and their impressive setup have obviously spent a lot of time getting their Kraftwerk renditions right and it was particularly good to see that they varied the track listing from last years. Their decision to include previously non-live tracks such as 'Europe Endless' and 'Sex Object' was a positive one. Their video sync is also worthy of note, something I'm sure that must have taken some time to get right.
After a relatively straightforward 'Ask The Panel' session and the raffle, the day came to a close. Despite all criticisms though, the day was enjoyable and gave Kraftwerk admirers the opportunity to chat and Paul must be given credit for having the initiative to put together the whole thing. Not an easy task I suspect. As each year progresses the convention does seem to become increasingly better and like most who I talked to on the day I hope that it can be maintained as a regular rendezvous.