Review: Ralf and Florian
The 'Ralf and Florian' LP under the spotlight by IC
From Aktivität 5 - December 1993 (Originally published under the title 'It was 20 years ago today...' )
---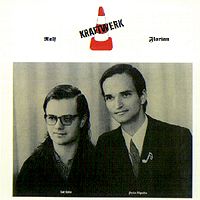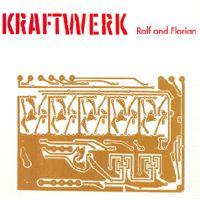 20 years ago, Kraftwerk released their 'Ralf and Florian' LP. To mark the event, we will look at various aspects of the LP, which, to the majority of the fanzines readers, still remains one of their least heard LPs.
The LP was first released in Germany in November 1973. The original vinyl LP copies appear to have been deleted round about 1981/82 or so. Since then there has been no re-issues at all; neither on vinyl nor, surprisingly to outside observers, on CD - at least not officialy anyway...
With the gift of hindsight, 'Ralf and Florian' can be seen to be the LP that gave the first indications of the direction in which Kraftwerk's future sound lay. Really, there is very little that can connect the contents of 'Kraftwerk 1' or 'Kraftwerk 2' to later recordings. 'Ralf and Florian' however, is the first LP on which the band were able to utilise a proper keyboard-synthesizer, in preference to the organs and electric pianos previously employed, and this fact is what undoubtedly shaped this LP's contents.
The rear of the cover for 'Ralf and Florian' gives us a good look at their equipment at that point in time. The picture shows that Ralf had by this time added a Mini Moog synthesizer to his set-up. Back in 1973 a Mini Moog would be a rather desirable item for a band of Kraftwerk's ideals. Unlike some other synthesizers/electronic gear, which could produce electronic sound but were not equipped with a keyboard, the Mini Moog could not only produce a wide array of unique sounds but, with its keyboard, would allow the player to harness these sounds in a melodic fashion; tunes! While earlier records contain electronic sounds, most of the keyboard sounds appear to be from either an electric piano or an organ, neither of which would give the player such a wide scope as a proper synthesizer.
Back to the photo; as well as the Mini Moog, Ralf is also equipped with a Farfisa electric piano, though this appears to be augmented by a hefty box of tricks mounted above it. In addition, he also has a set of bass pedals too. Florian's ensemble is far more uncommon; there is a fair amount of electronic gear on display, though none of these devices have a keyboard as such. Presumably, the rhythm generator first heard on 'Kling Klang' and also on this LP is amongst the gear. In addition, a number of flutes are there too, as well as some kind of guitar - 8 stringed - probably, judging by what is heard on 'Ananas Symphonie', some kind of a lap-steel guitar.
As I mentioned, this LP points the way to the future Kraftwerk, though it still reaches into the past in its reliance on flutes, drum kit and guitars. Despite this, the differences between this LP and the previous two are quite clear. Whereas the first two records often utilised sound on its own as an end in itself, the contents of this LP are far more melodic and tuneful, clearly more keyboard-based. While the sounds themselves are still as important, greater thought has been given to the melodies and tunes. Pop music, here we come. The previous LP, 'Kraftwerk 2', has very little in the way of keyboards on it. Side one is dominated by 'Kling Klang', the instrumentation of which appears to be; rhythm box, bass guitar, flutes, electric piano (and the numerous chimes at the start of the song). Side two is dominated by electric guitar, bass guitar, flute and echo box. A proper keyboard-synthesizer just isn't there!
One point worth noting is that the contents of the songs on 'Ralf and Florian' are probably the least 'industrial' of Kraftwerk's entire output, which is at odds with the previous and subsequent LP's. For starters, the titles themselves portray more abstract, gentler themes; 'electric roulette', 'Tongebirge' (roughly, a mountain of sound(?) ), 'crystals', 'the sounds of home', 'dancemusic', 'pineapple symphony'. A far cry from autobahns, transistors, megahertz, robots, spacelabs and computers of earlier and later work. The music on 'Ralf and Florian' is softer; gone are the cacophonous extremes of sound that typify the earlier records. Lusher, more synthetic sounds, as opposed to industrial hums and buzzes, permeate this work.
It's easy to understand why the first two LPs hold little appeal for some listeners; while later Kraftwerk can be heard on tracks such as 'Ruckzuck' and 'Kling Klang', these are the exceptions rather than the rule. In particular, side 2 of 'Kraftwerk 2', with its untidy, formless guitar experimentation, will have little in common to fans more suited to the smooth finish of a 'Trans-Europe Express' or an 'Electric Cafe'. 'Ralf and Florian' might though.
For the benefit of readers who haven't heard the LP or know much of its tracks, here are some comments on the tracks. This is purely subjective and my own opinion. Many readers may feel that 'Ralf and Florian' is the best LP ever made and that such descriptions may well detract from the LP or prejudice new listeners against it. On the other hand, some may well think it's a load of garbage and some kind of pre-'Autobahn' twaddle!
---
ELEKTRISCHES ROULETTE
Well, this could be a case of 'We've got a Mini Moog and we're gonna use it!' A range of electronic sounds are heard throughout the track, in addition to drums and percussion, electric piano, electric violin(?). Tunes abound and collide. I would imagine that, at this point in time, if you were a fan of the band, taking the LP home from the record shop and placing it on your turntable for the first time, this track must have seemed like a bolt from the blue; it sounds quite different to anything from the previous two LPs and it would probably seem as if Kraftwerk were heading for more mainstream trajectories.
TONGEBIRGE
Kraftwerk in 'ambient' mode. This is quite laid back, a slowly unfolding tune. No rhythm as such to propel the track, with Florian's heavily echoed flute on one side of the mix and Ralf's synthesizer melodies on the other. Rather pleasant.
KRISTALLO
This track is often singled out as being one of the most original and progressive of the tracks from this LP. This is probably due to the bass synth and its choppy rhythm which would, in all seriousness, not have sounded out of place coming from any loudspeaker during 1988's acid house summer of love! While it doesn't have a thumping four-from-the-floor bass drum beat to anchor it, you can hear the similarities. Above this, there is a more random, freeform keyboard line, which often seems to play at a different tempo from the bass rhythm, which may sound odd to some ears. This would appear to be the first ever completely electronic/synthesized Kraftwerk track. No flute, no guitar, no drums, no violin.
HEIMATKLÄNGE
Like 'Tongebirge', this is quite laid back. Made up primarily from flute and piano, it is perhaps a Kraftwerk equivalent to the 'ambient'/ furniture music area explored, later, by Brian Eno and pondered, earlier, by Erik Satie. Heimatklaenge; the sounds of home. Environmental music? Music to do your washing up to?! Well, Ralf has been known to make such claims for Kraftwerk's music in interviews!
This track is probably the one which sounds most like later Kraftwerk. Probably because of the rhythm box, which is quite central in the mix. It has always reminded me of parts of 'Autobahn' and 'Airwaves'. This track is also the first to have Kraftwerk singing, with choral 'aaaahhhhs' flitting in and out. Synthesizer, drums, glockenspiel(?) add to the barrage of sound.
ANANAS SYMPHONIE
The longest track on the LP, clocking in at just under fourteen minutes. There are distinct sections to this song. For me, the first minute or so is the most interesting. If the rest of the song had continued in this vein it would have been quite something. After a flurry of initial sounds, things start to move when a high altitude synth and plucked guitar are joined by an electronic rhythm which fades in. This sounds pretty impressive, for the time, and is augmented by the first airing of the electronic voice that later records would improve upon and utilise to such great effect. It can be heard quite clearly here, reciting 'An-an-as Sym-phon-eeeeeeeee' three times! Unfortunately, this little section hardly lasts any time and soon fades out, followed by a section that uses a heavily phased sound (guitar, I presume) on one side of the mix and synthesizer on the other. Then follows a section of white noise in the classic 'lets-pretend-its-ocean-waves' mode. The later section sees a return for the 'cocktail music' rhythm box, slower this time and joined by lush synthesizer tones and more Hawaiian/steel guitar. Though melodic, the tune doesn't really go far, content to wander off in its tropical feel. This track has the air of unfulfilled promise about it. The electronic voice, something of a first, no sooner appears than it disappears - sadly under-employed.
---
The Releases
The original German release of the album, Philips 6305 197, remains the most desirable edition to have. The original copies came complete with an additional 'Musicomix'; a large fold-out colour poster. This contains various humorous drawings by Emil Schult and also Florian Schneider. (It is also the first piece of Kraftwerk 'produkt' that makes mention of Kling Klang Verlag, their company). In addition, the German sleeve is different to the UK design. The German edition features a portrait photo of Ralf and Florian on the front, whereas the UK edition, Vertigo 6360 616, features a simplistic circuit-board design instead. The back of the sleeve remains almost identical though, featuring the colourful pic of Ralf and Florian, seated at their instruments in (presumably?) an early incarnation of Kling Klang studio. Amusingly, there is some kind of message, in German, scratched into the 'run-off' groove of the record itself which makes some kind of similarity between Kraftwerk and Status Quo of all bands! (Perhaps nothing more alarming than the simple fact that both acts were signed to Vertigo records!) There are also promo copies of the German edition in circulation and these can be distinguished easily by the white coloured 'Musterplatte' labels.
In fact, most other countries chose to use the German sleeve design on which to base their own. The UK edition and the weird Italian compilation seem to be the only home for the circuit board design.
Another interesting edition of the album is the Japanese edition. This does not feature the picture on the rear of the sleeve, of the band, that the majority of other editions have. It does however contain an interesting biography on the band, printed in both Japanese and English.
The American edition, Vertigo VEL-2006, was not in fact released until 1975, and differs from most others in that it contains English translations of the song titles on the back cover too. Sleeve design is otherwise like the German edition. Interestingly, there was a sticker attached to the shrink-wrap which stated 'contains the hit 'Kristallo' '. Whether this was issued as a single in the US is a mystery. I, nor anyone I have asked, has ever heard of it as a single. Perhaps some kind of promo-only release? Some copies of the album have the title misprinted on the label as 'Kraf And Florian' ! (Further info on the US release in Aktivitaet 4's 'Collectors Corner - USA' article) . Also issued on cassette (VCR-4-2006) and even 8-track cartridge! (VC-8-2006)
The Canadian issue again uses the portrait photo on the front, though the picture on the back is printed in black and white. There is also a French release, Philips 9118 004, though I have no other details than the cat. no.
The Spanish release of the album, Philips 63 05 197, did not appear until 1978, perhaps as part of a 'Pop Legends' series, as it has such a logo printed on the rear of the sleeve. This was one of the countries that also benefited from a cassette release of the album, Philips 71 05 147. The Dutch issue of the album, Philips, 6435 117, was also part of a 'Pop Legends' series, though when it first appeared I have no idea.
I do not know if the full version of the album was ever issued in Italy, but they were 'treated' to a compilation album that squeezed all the tracks from both the 'Kraftwerk 1' and 'Ralf and Florian' albums onto one single LP! (Fontana, 9286 875) Three of the tracks are unedited, (Elektrisches Roulette, Tongebirge and Heimatklaenge), while the other tracks are all edited. In particular; 'Ananas Symphonie', from 13'55" to a mere 6'45"; 'Kristallo', from 6'34" to 1'35". The sleeve design for this compilation uses elements of the UK sleeve design, with the simplistic circuit board design employed once more, in a deep pink colour this time. Further details on this LP are included in Aktivitaet 2's 'Compilation and On and On...' article.
---
Closed Circuit?
20 years on, the bands attitudes toward the LP are unclear. It is known that Mute records approached the band in 1992 with the idea of issuing the bands early material on CD format on their 'Grey Area' sub-label, but the opportunity was passed by.
Will it ever be officially re-issued? With any other band it would only be a matter of time, but Kraftwerk are not bound by the rules of others, so don't get your hopes up. In 1995 the band re-issued on CD format all of their albums from 'Autobahn' to 'The Mix'. If 'Ralf and Florian' were to be re-issued one can but presume that it would have been part of that re-issue programme. That it wasn't says a lot, I fear. Kraftwerk appear to own the rights to the material, so, ultimately, it is their own decision whether or not it is re-issued in any form at all. If you want to know, you'll have to ask... Ralf and Florian!
---
Postscript
There have now of course been two different unofficial CD releases of this album, both appearing in 1994. The better quality of the two is the one on the Germanofon label. Trying to get official confirmation that these CDs are in fact bootlegs has proved unsuccessful, with EMI in the UK remaining silent thus far. That the Germanofon records information sheet listing all their 'official' CD re-issues also lists a large number of definite live bootleg CDs on its reverse side tells us a lot, I feel.
Author: IC, April '96