The Return of Die Mensch Maschine
Live at the Leicester Polytechnic Arena - 18.6.92
Text by IC, photos by Martin Lynch (1 and 2) and The Prof (bottom photo)
From Aktivität issue 2 (August 1992)
---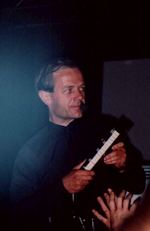 The second of the two warm-up dates was at a similar venue, in Leicester. As before, tickets were on sale at the door and a queue was beginning to form from early on. Long before the gig, those gathering outside were treated to the sight of Florian, leaning outside a window in the venue, holding a conversation on a portable 'phone while the music for 'The Robots' could be heard thumping away! Within a few minutes he was gone!
For this gig the band played the same set of songs, in the same order, as for the previous gig. 'Autobahn' was much improved, though still shorter than the version found on 'The Mix'; the funky little keyboard part that follows the doppler-effect engine roars is absent, as is the electronic yodelling! During 'Radioactivity' all four band members sported the LED ties, much to the approval of the crowd. 'Trans-Europe Express' started off differently from Norwich, with the familiar rhythm starting the song and this was also used at G-MEX. Although there were no between-song comments from Ralf a good atmosphere was present in the crowd, lots of shouting and dancing and during 'Pocket Calculator' the band did offer their keyboard/sequencers to the crowd for a small period of audience participation, while Ralf added the comment that "anybody can make electronic music"!
Minor differences were noticeable with the video projections and at the start of the show there was a longer period before the appearance of The Robots which gave the opportunity to show part of the animated 'robot dance' video sequence.
On both nights, if you waited for long enough after the gig, Ralf dutifully signed autographs and answered questions from fans, for a few minutes, before all four members headed off into the distance... in their hired white Ford Transit van...
Set list for both Norwich and Leicester;
'The Robots', 'Numbers', 'Computer World', 'The Model', 'Tour De France', 'Autobahn', 'Radioactivity', 'Trans-Europe Express'-'Abzug'-'Metal On Metal', 'Music Non Stop', 'Home Computer', 'Computer Love' and 'Pocket Calculator'.
The reviews;
Leicester Poly Arena 18.6.92 by IC (this page)